Hourglass Veil Mineral Face Primer – Canvas of your makeup

"Pretty is what you are. Beauty is what you do with it." – BareMinerals
Hi Loves,
The first step of a good makeup is a good face primer. It's like preparing the canvas for the perfect art. When we are talking about good face primers, there are several in the market. My current favorite is "Hourglass Veil Mineral Face Primer".
About Face Primer
As a newcomer to beauty industry's makeup products, primer has quickly become one of the must have products in all beauty enthusiast's closet. Before foundation primers were engineered, women simply used their moisturizer as a primer. In addition to moisturizing, a primer has benefits to smooth out the surface of your skin and fill in pores, fine lines, and wrinkles. It creates a smoother surface for easier foundation application. Human skin releases natural oils throughout the day which breaks down your foundation. Primer acts as a net barrier which keeps your skin separate from your foundation/BB cream/etc.  This results in a smoother, more natural look with all of the skincare benefits.  There are a few main types of primers: moisturizing, oil absorbing, light-reflecting, color-correcting, and pore-minimizing. No matter your skin tone, or regular makeup habits, a good primer can do wonders for your beauty look.
About Hourglass
Hourglass Cosmetics was founded in 2004 when beauty industry veteran Carisa Janes saw a void in the beauty market. Founded with a commitment to reinventing luxury cosmetics, Hourglass has carved a niche for itself as an innovative beauty brand. The brand is acclaimed for its breakthrough formulations, technological innovations and unwavering commitment to reinvention. The company creates Complexion products which are infused with the most groundbreaking active ingredients available to create unbelievably surreal skin. Distinguished by sensorial textures, modern color collections, and sleek custom packaging-Hourglass puts the art in state-of-the-art. Today, Hourglass can be found at Bergdorf Goodman, Nordstrom, John Lewis, Mecca, Net-A-Porter, Liberty, Space NK, Urban Retreat at Harrod's, as well as Sephora stores in the US, Mexico, Brazil, Italy, and Canada.
Hourglass Veil Mineral Face Primer – Canvas of your makeup
When we talk about good quality primers Hourglass falls on the top of the list featuring some state-of-the-art primers they offer. This Veil Mineral Primer is perfect for oily or combination screen. This is a mineral based, water resistant primer with SPF15 which absorbs excess oils from the skin and minimizes the appearance of pores. I take a small amount on my finger tips and apply all over the face before putting on the foundation. It glides easily and gets absorbed well in to the skin unlike some other silicon based primers that just sit on the skin. This creates a smooth, uniform canvas for flawless makeup application. After that once I put my foundation it stays put for longer time without becoming too shiny or too cakey.  It evens out my skin tone and makes my pores appear diminished.
It is formulated without Parabens, Sulfates, Synthetic Fragrances, Synthetic Dyes, Phthalates. Veil Mineral Primer is formulated with naturally derived titanium dioxide and zinc oxide instead of chemical sun-blocking agents. This water-resistant primer is also 100 percent free of fragrance, oil, and gluten. The primer comes in a sleek frosted glass bottle with a metal pump dispenser. It looks full white from outside which is very nice and classy. It is travel friendly too.
Pros
The skin absorbs this white primer easily and Titanium dioxide and zinc oxide provide gentle, broad-spectrum sun protection.

It makes my makeup look so flawless throughout the day and it's spectacular in photos.

This primer improves the look and extends the wear of foundation without looking too shiny or cakey.

It feels lightweight in the skin. In addition it does not cause any reaction or break out so it is suitable for sensitive skin too.

The texture is silky and not a heavy slippery silicone texture

It temporarily smoothes out fine lines and diminishes large pores giving a flattering matte finish.

You will not find any Parabens, Fragrance, Sulfates, Synthetic Dyes, Vegan-friendly and it is NOT tested on animals.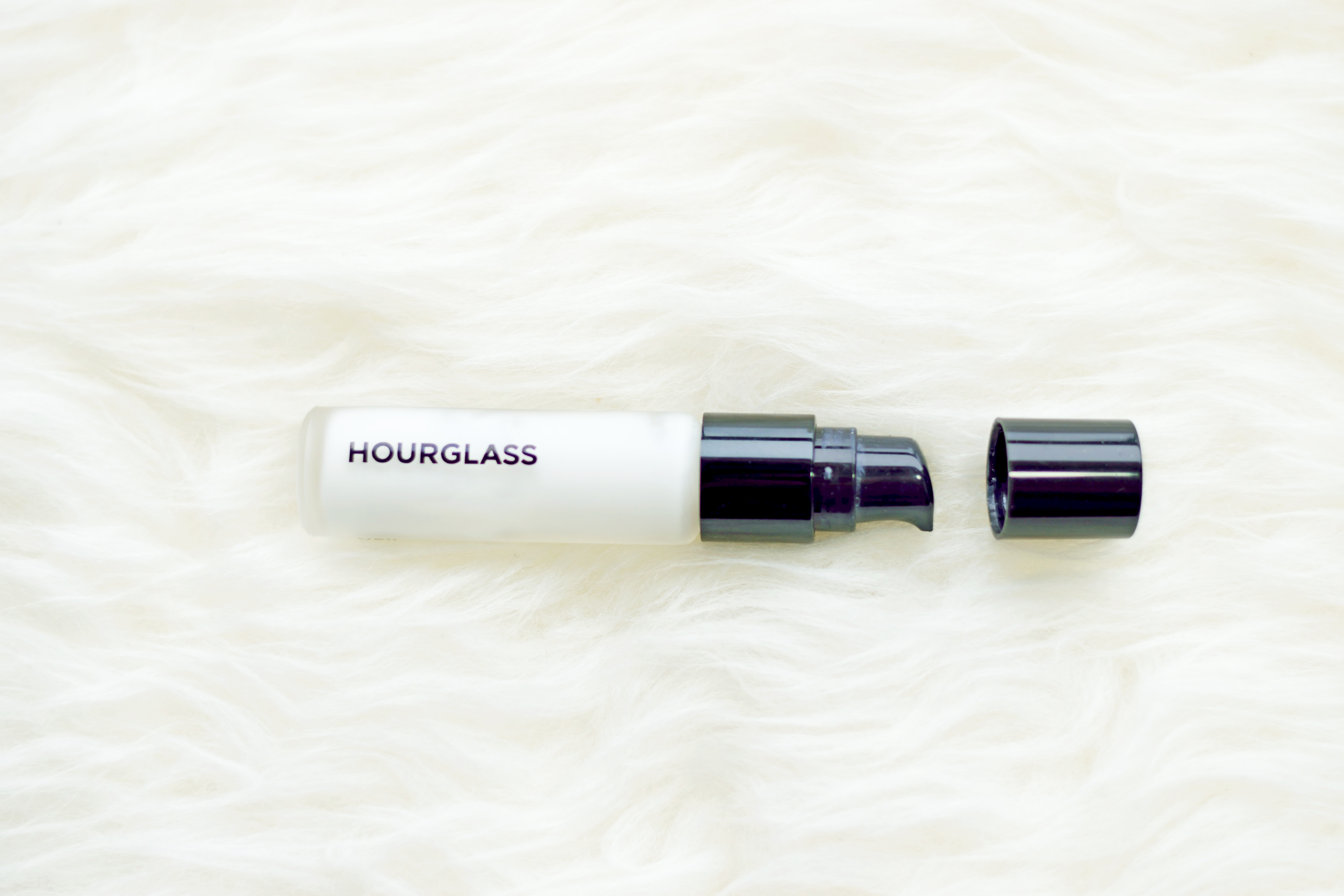 Cons
None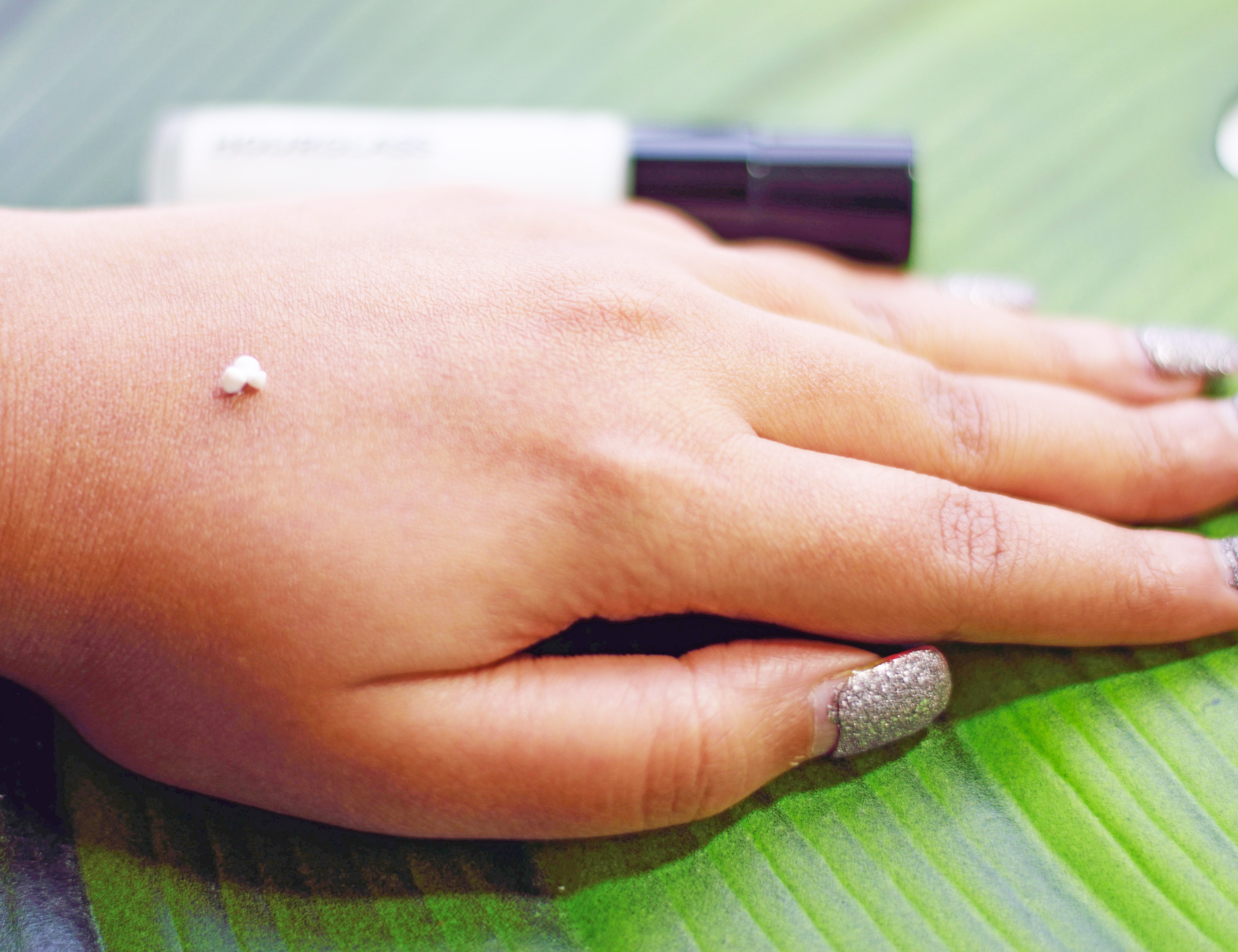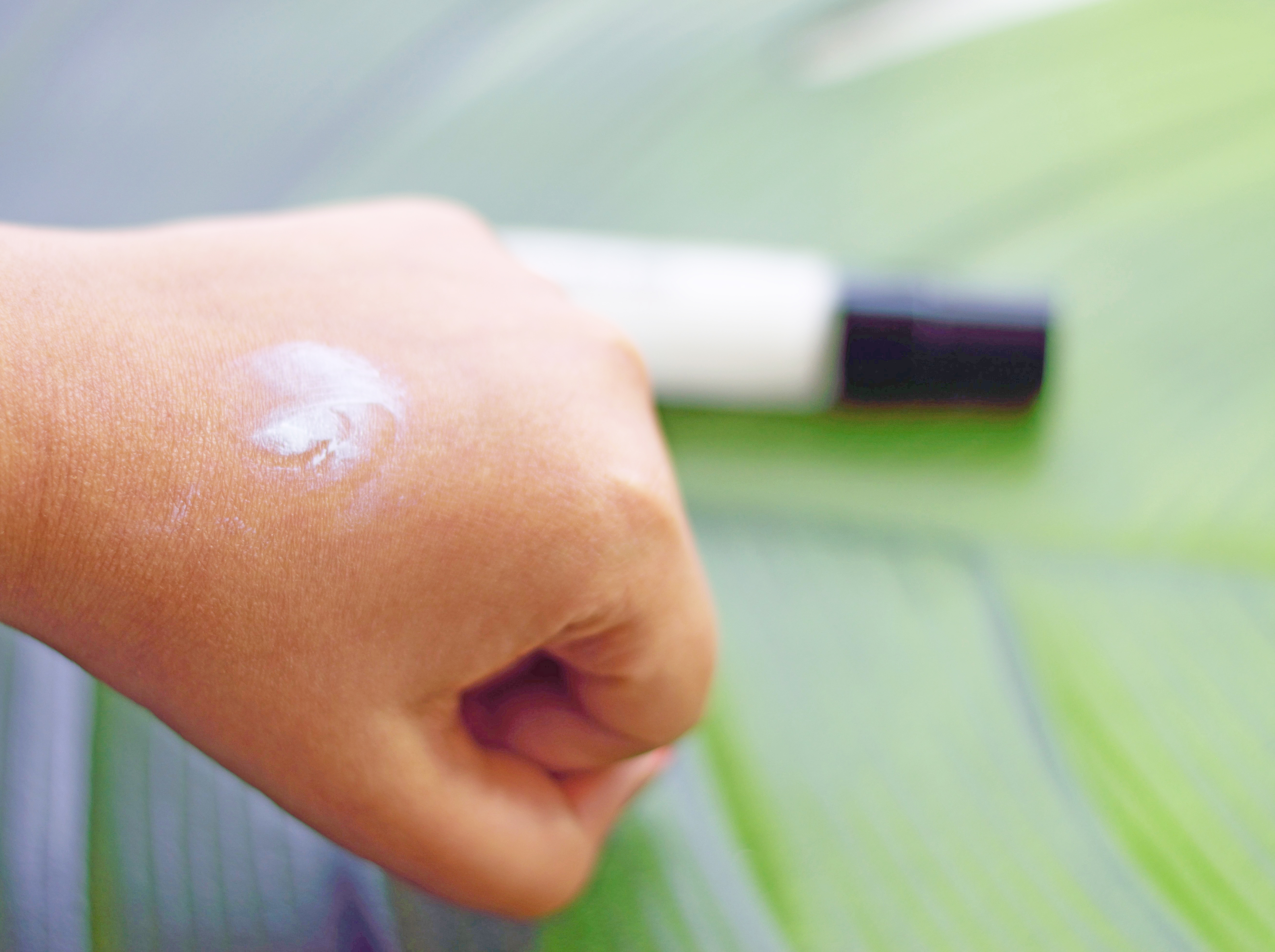 Availability
This is easily available in all major makeup stores and online like Sephora, Nordstrom etc. You can also easily find it in Amazon with the lowest price. Amazon is always safe and shipping is super fast so I always get from there. You can also go for the Amazon prime if you need faster delivery. Check out the link below:
Hourglass Veil Mineral Primer SPF 15 0.33 oz by Hourglass
So with this state-of-the-art primer you can surely elevate your foundation to unprecedented performance that extends the wear of foundation for a perfect complexion that lasts. I hope you all liked my review of this beautiful primer and let me know in the comments how you like it. If you are also looking for the best foundation to match with this, you can try the Bobby Brown foundation for which I wrote a review here. If you liked this post, please hit the Love button, comment and subscribe to my newsletter to get all my blog posts right to your inbox. Also don't forget to follow me in Facebook, Instagram and Twitter.

Disclaimer: thatneongirl.com is a participant in the Amazon Services LLC Associates Program, an affiliate advertising program designed to provide a means for sites to earn advertising fees by advertising and linking to ("thatneongirl.com" (amazon.com, or endless.com, MYHABIT.com, SmallParts.com, or AmazonWireless.com).
XOXO