Josie Maran Argan Illuminizer – Bring back the Glow
"Look Glowing, feel Glowing because every girl wants to GLOW forever"

Hi Loves,
How are you all doing? It has been quite some time that I have posted a cosmetics review. Being a hardcore cosmetics lover, I was thinking for a few days that there was something missing. Well I was happy though to share one of my very personal story along with a serious problem to the society "Bullying" in my last post here. Anyway here I am Today with the review of a very important product without which your "perfect look" will not be complete.
In order to create the perfect look, the most important thing you need is a glow on your face which is best done by the Josie Maran Argan Illuminizer. Once you start using this product you will see this is a game changer. You might be spending a lot of money every month just to create that perfect look you see on tv, but still you feel something is missing. Once you know how you can apply this illuminizer correctly, that perfect look will be yours.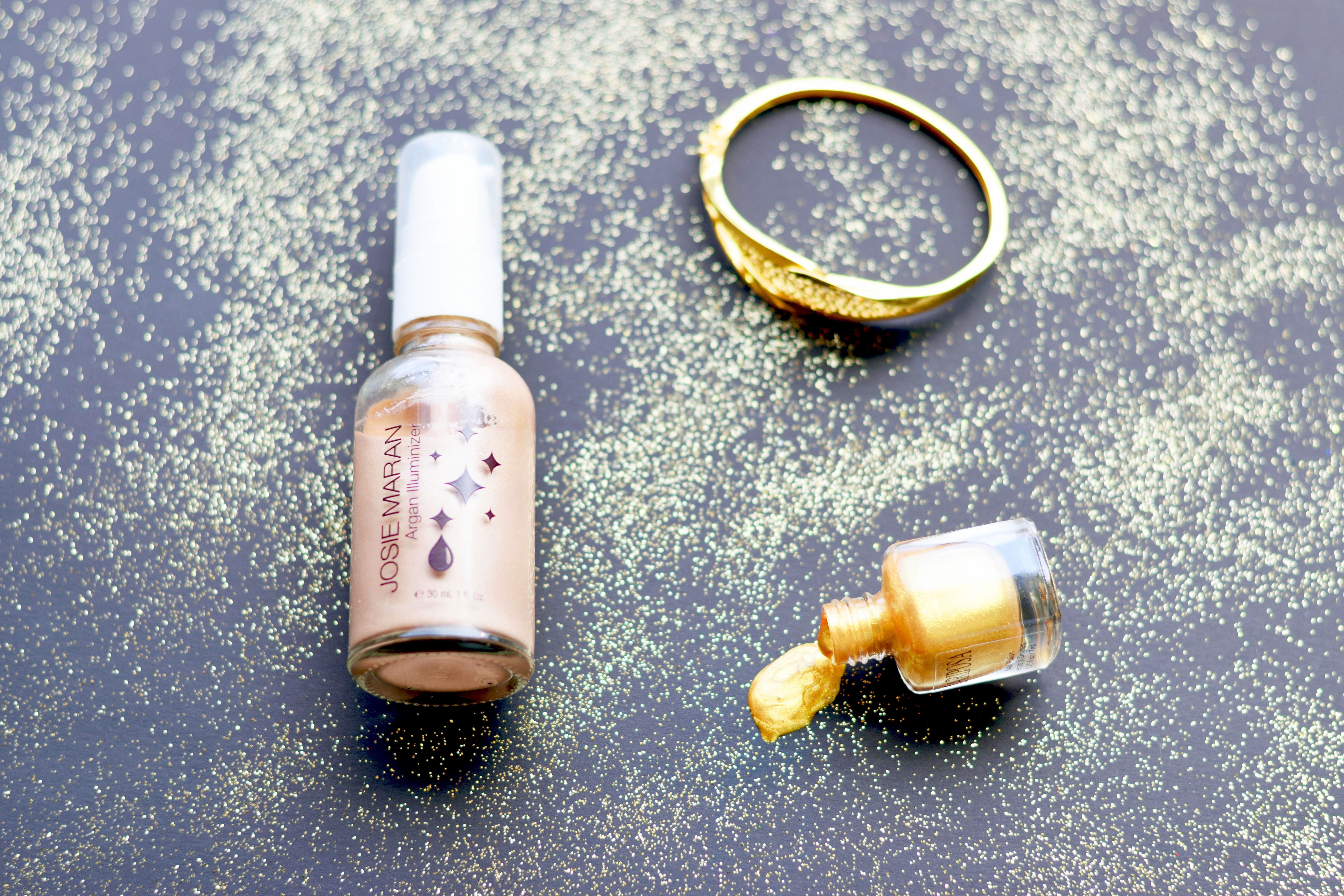 About Josie Maran
Josie Maran is a successful supermodel/actress born in California in 1978. Starting her career at the age of 17 she always kissed success through her lifetime starting from magazines like Glamour to big companies like Guess/Maybelline.
In June 2007, Maran launched her own natural cosmetics product line, named Josie Maran Cosmetics. The company motto is "luxury with a conscience" and the main ingredient of the skincare and cosmetics is fair trade Argan oil, grown and harvested by co-ops of Moroccan women. Josie Maran cosmetics are sold on QVC and at Sephora.
Josie Maran Argan Illuminizer – Bring back the Glow
About the product
It is a concentrated radiance liquid for the face, with high-performance crystals that are infused with multicolored luster pigments to capture and reflect light. This brings a glowing look to the skin. Enriched with Argan oil, which provides nourishment to the skin, its champagne hue mirrors the natural, radiant look of healthy skin. It's infused with Madonna lily, a pure white blossom, and poet's narcissus, an ancient daffodil, which work together to brighten and even your skin tone. Skin looks instantly radiant when you use this versatile liquid illuminizer alone, or mix it with foundation, moisturizer, or oil for a lit-from-within glow.
My experience
Being a huge lover of Argan Oil myself, this product is very dear to me. Built with such a natural ingredient, the most important benefit is it provides a lot of nourishment to the skin. Who would not love a cosmetics which also helps the skin! The texture is thin but not runny. I mix it with my foundation sometime and use it on the high points on my face. It leaves an intense glow along with a little shimmer because of the glitter particles present in the product. The glitter particles will reflect light from your face giving your look a shimmery radiance. I apply a small amount on my upper cheekbones as a highlight along with on my eyelids and brow bone, on the bridge of my nose, and any remainder on the rest of my face and neck. Lasts all day and makes my skin look and feel amazing.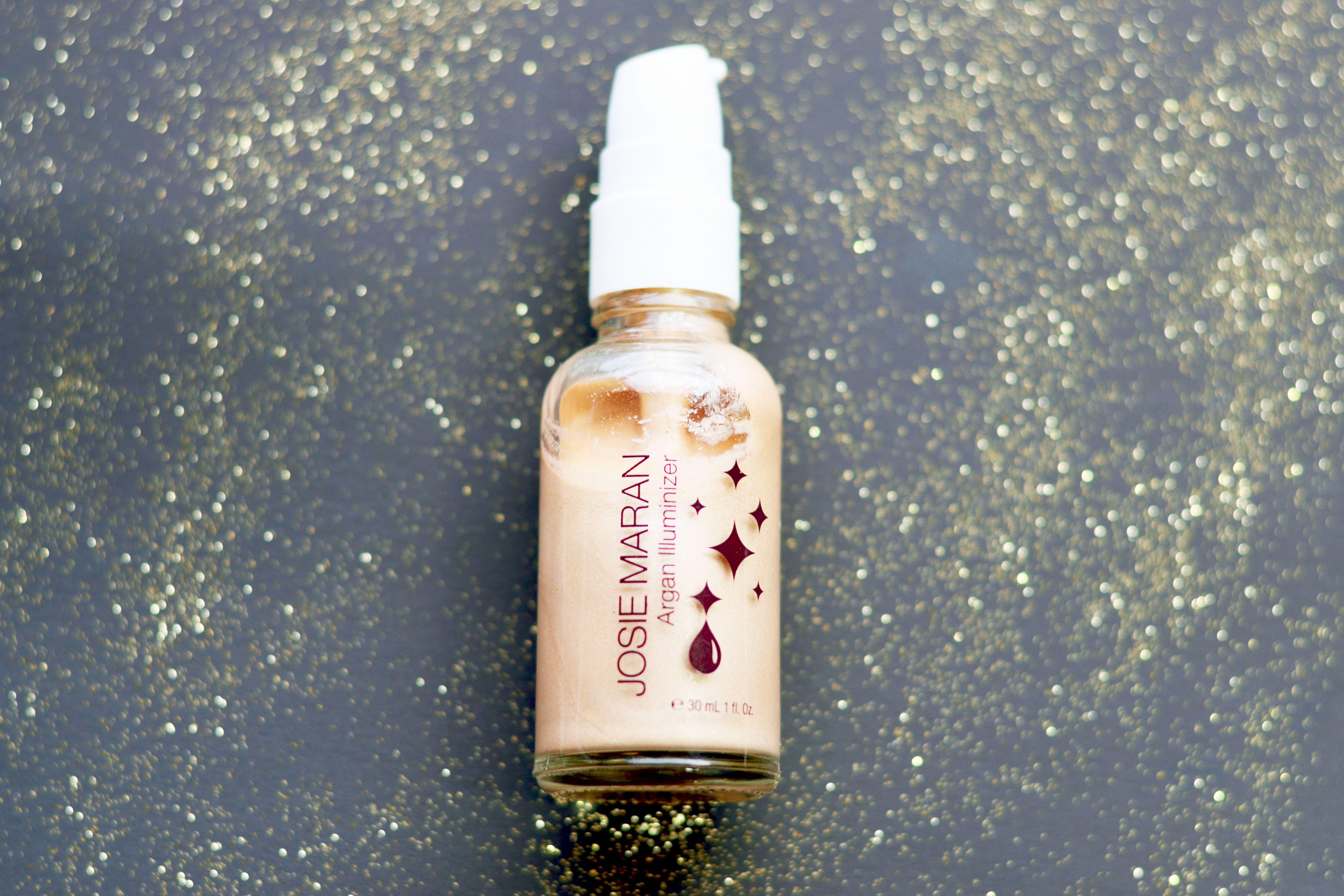 Packaging
The packaging is sleek and cute in a transparent bottle. You can see the color from the outside which is so attractive. It also comes with a pump which makes it a lot easier.
Texture
It feels quite smooth and silky on the skin. It is not greasy at all. You will not feel the product clumped over the face but gives a nice glow to your look.
Pros
Liquid texture makes it easy to mix with foundation

Argan oil component gives nutrition to skin

Smooth and not greasy

Gives Super glowy finish

Can be used to highlight high points as well as neck/shoulder
Cons
Might a little heavy glitter for pale toned skin

It accentuates the look of pores, use a pore filling primer
Tips and Tricks
Dab along the top of the cheekbone, blending out to just above your eyebrow, using your fingers or a beauty blender. Take it down the centre of your nose, middle of your forehead and chin, and place a tiny amount on your cupid's bow. Applying it to the lip area helps your lips look bigger, particularly if you're wearing nude lipstick or clear gloss.
Availability
It is available easily in all Sephora stores or online. I would suggest to try a sample first just to make sure it matches with your skin tone. The price is quite right and this lasts a long time since you use it a little at a time. Please find the link below.
TNG Rating: 4.2/5
I hope you liked my review of Josie Maran Argan Illuminizer – Bring back the Glow and this will bring back that missing glow to your face to create the perfect look. I you are looking for a good foundation to pair this with read my review of Bobby Brown Skin foundation. If you liked this post, please hit the Love button, comment and subscribe to my newsletter to get all my blog posts right to your inbox. Also don't forget to follow me in Facebook, Instagram and Twitter.

XOXO