Black Floral Boho Dress from JustFashionNow – The Perfect Boho Look
"I really like the bohemian look, and I'm a great fan of mixing vintage and modern" – Kierston Wareing
Hi Loves,
How are you  guys doing? As you might already know I just came back from my vacation from Varadero, Cuba. I feel so rejuvenated and motivated after coming back and I am going to show you all my vacation pics on my blog and social media channels. Although I enjoyed a lot but also to mention I missed you guys so much.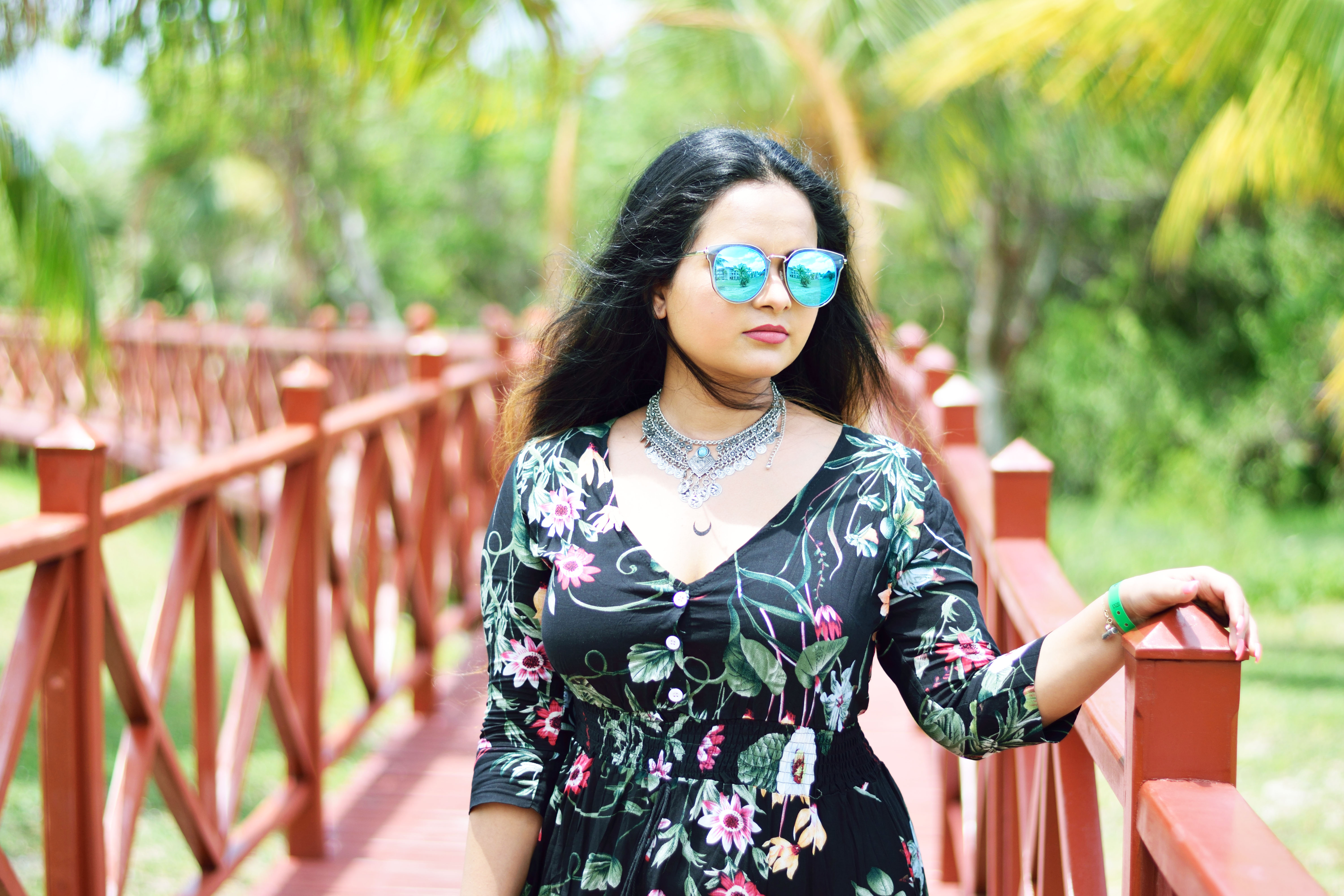 My OOTD
One thing I did in this vacation was I created many different looks altogether and I am going to show them to you one by one. I going to share my first OOTD look Today that I created during my vacation which you can see in the pics.
While I was in Cuba, it was actually summer there, so it was quite hot. So after returning from beach and getting out of my bikini, I wanted a dress which is comfortable, loose, trendy and match with the beach vibes. So I choose this Black Swing Floral-print 3/4 Sleeve Boho Dress from JustFashionNow.
About JustFashionNow
They are an online fashion store who offers all the latest trends in fashion at designer boutique quality. They have a professional experienced team who identify the latest trends in fashion world and work with designers and brands worldwide to create new and creative fashion outfits. The clothes have the best fabric quality along with high craftsmanship and you will get designs which you will get nowhere else. The best thing I like about them is their prices are very affordable. Check their site here.

About this dress
As you can see this is a long dress in Boho style which is the most trendy style nowadays. The dress is fully in black with colorful florals printed all over the body. I loved how prominent the prints are and it will always catch everyone's eye. The dress is loose and does not stick to your body which is very comfortable in summer weather. The neckline is V neck and the sleeve is a 3/4 sleeve. Due to it's 3/4 sleeve length, you will get to save a lot from the sunburn. This dress is perfect for any beach, resort or holidays which matched my purpose fully.
It is available in sizes S,M,L,XL which you can choose depending on your size. There is a full size guide in their site which will help you choose your size. They also specify the length, bust, waist and sleeve length for each of the sizes which I found very helpful. The length of the dress is perfect and it does not roll over to the ground which helped me a lot while walking on the beach.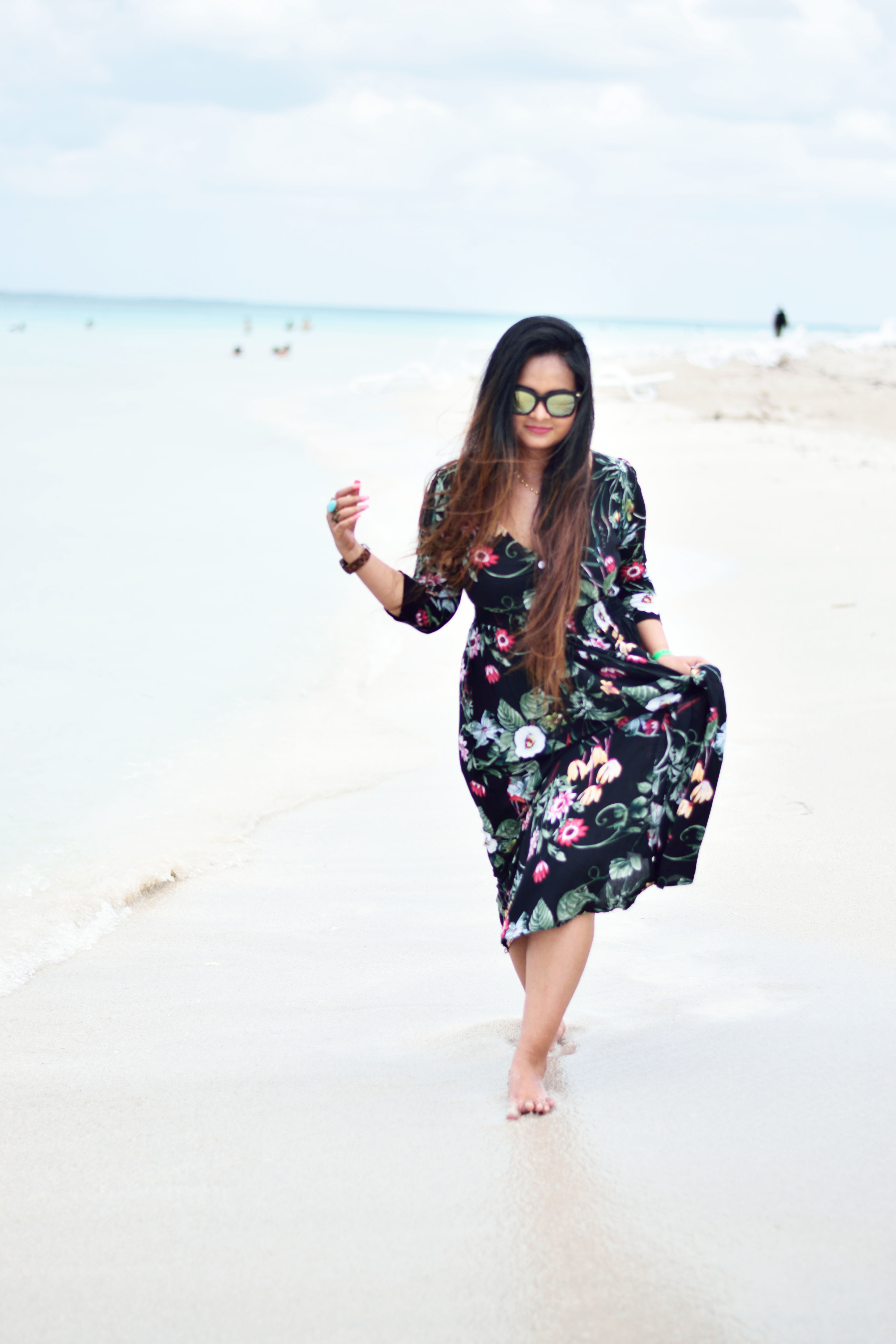 Dress Link
You can buy this dress easily from JustFashionNow from the link below. You can get standard shipping within 7-12 days or express shipping within 2-5 business days. Their return policy is also easy within 15 days unused and undamaged if it does not fit you. You also get free shipping on orders of 69$ and more and 15% off coupon once you register, how cool is that!!
Create the Bohemian Look

I created 2 different looks with this dress which you will see below and I used below mentioned accessories/sunglasses in each of them. You can buy the whole looks from the links below:
Look 1
Dress: JustFashionNow

Sunglass: SojosVision

Necklace: Ardene

Watch: Tense Watch
Look 2
Dress: JustFashionNow

Sunglass: Red Carpet Eye Wear

Necklace: Yvette Jones

Watch: Tense Watch
I will publish separate posts on the details of the sunglasses, watch and necklaces I wore very soon on my blog. So stay tuned.
So how did you like this Boho Black Dress from JustFashionNow. Don't forget to let me know in comments. Also let me know if you end up buying one and how you like it. I will be coming up with lot more pictures and product reviews on my blog soon that I wore during my vacation so stay tuned. If you liked this post, please hit the Love button, comment and subscribe to my newsletter to get all my blog posts right to your inbox. Also don't forget to follow me in Facebook, Instagram and Twitter.
XOXO