Accessory collection from Chic Designs by Yvette
"Life's too short to wear boring accessory"
Hi Loves,
How are you all doing? Today I am going to talk about something which is one of the most important part of a woman's style statement – accessories. As the quote mentioned above I am very choosy while selecting accessories. I always think of the outfit to match with and I also look for something unique. So recently I have shifted most to handcrafted jewelry which are creative and trendy.
Chic Designs by Yvette
Finding an accessory company whose designs and collections fit your style is not easy and I am so glad I found mine recently. The name of the company is Chic Designs by Yvette. Yvette Jones is a leader in independent jewelry design and an accomplished visual artist, educator and arts programmer. Her designs were liked by so many people which inspired her to open The company "Chic Designs". Her designs have been featured in several upscale magazines and Miss New York USA.
You can check all her lovely collection in the link below:
http://chicdesignsbyyvette.wixsite.com/yvettejones 
What I like about her jewelry
What I like most about her jewelry is obviously they are handcrafted so the details of each piece is so prominent. The designs reflect notions of beauty and spirituality and depict her tremendous sense of fine art. Another noteworthy feature of her jewelry is the use of Swarovski crystals, rhinestones and gemstones which are of the finest quality. I also love that I get everything I need at her store including necklaces, bracelets, earrings, hair accessories as well as bridal jewelry too. Her versatile collection surely fits every personal style and fashion statements. Last and I can't miss to mention, I talked to her personally and she is so gentle and a lovely person to talk to. She listens to every request I have made and has fulfilled it.
Let's see some designs
Without further adieu, let's jump into some designs along with pics when I used them during my latest vacation to Cuba.
Faceted Amber Accent and flower rhinestone Flower Necklace and Earrings Set
It is a beautiful necklace and earrings set with some lovely red rhinestone. The amber color and floral design adds to its beauty. I wore this with a long black floral dress to create an trendy look.
Crystal cal headband and bangle bracelet
A beautiful off-white crystal headband and bracelet set which goes nice with any white attire. Perfect for a beach gateway and creating some boho vibes.. I wore this with a white beach dress and a septum for the ultimate boho look.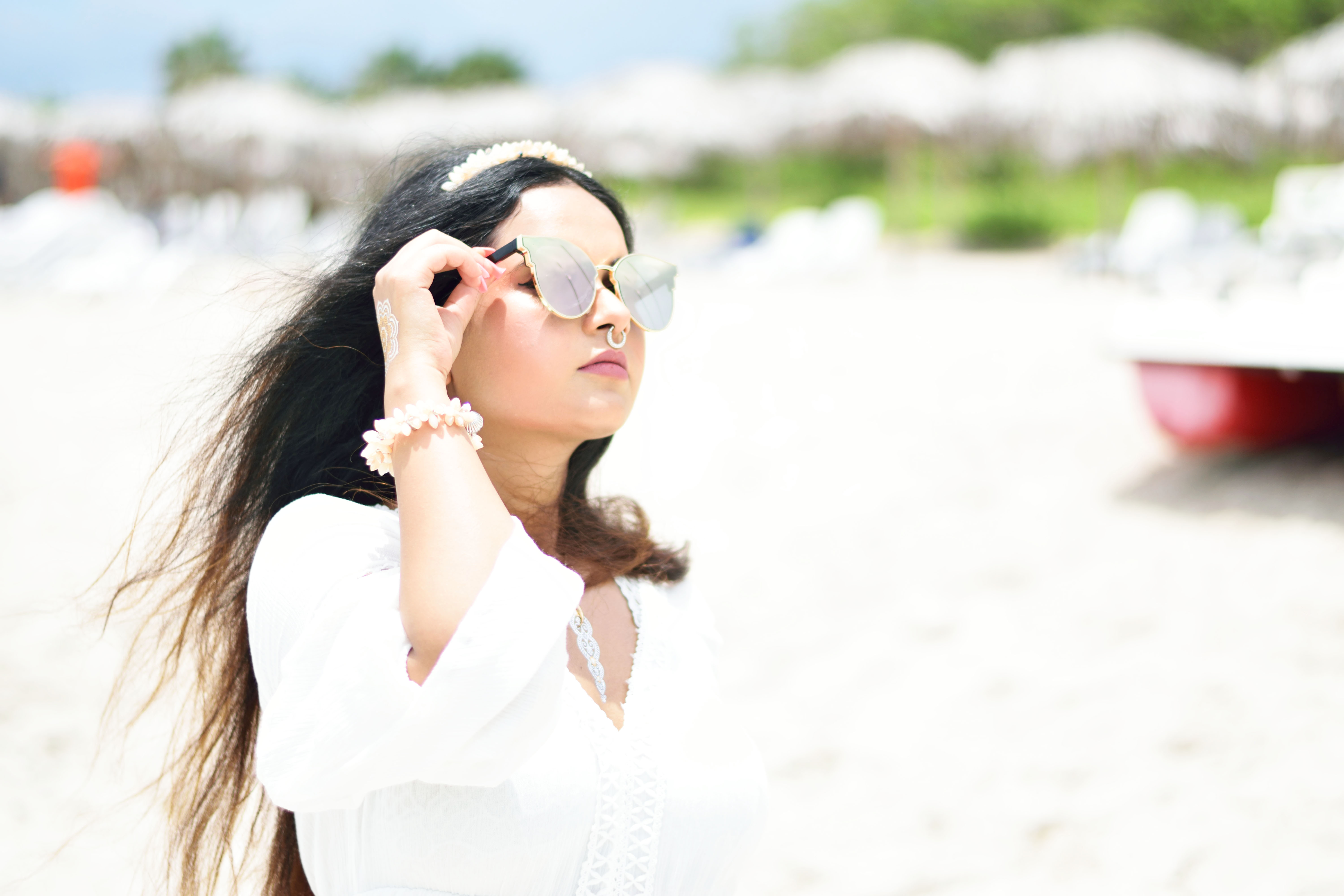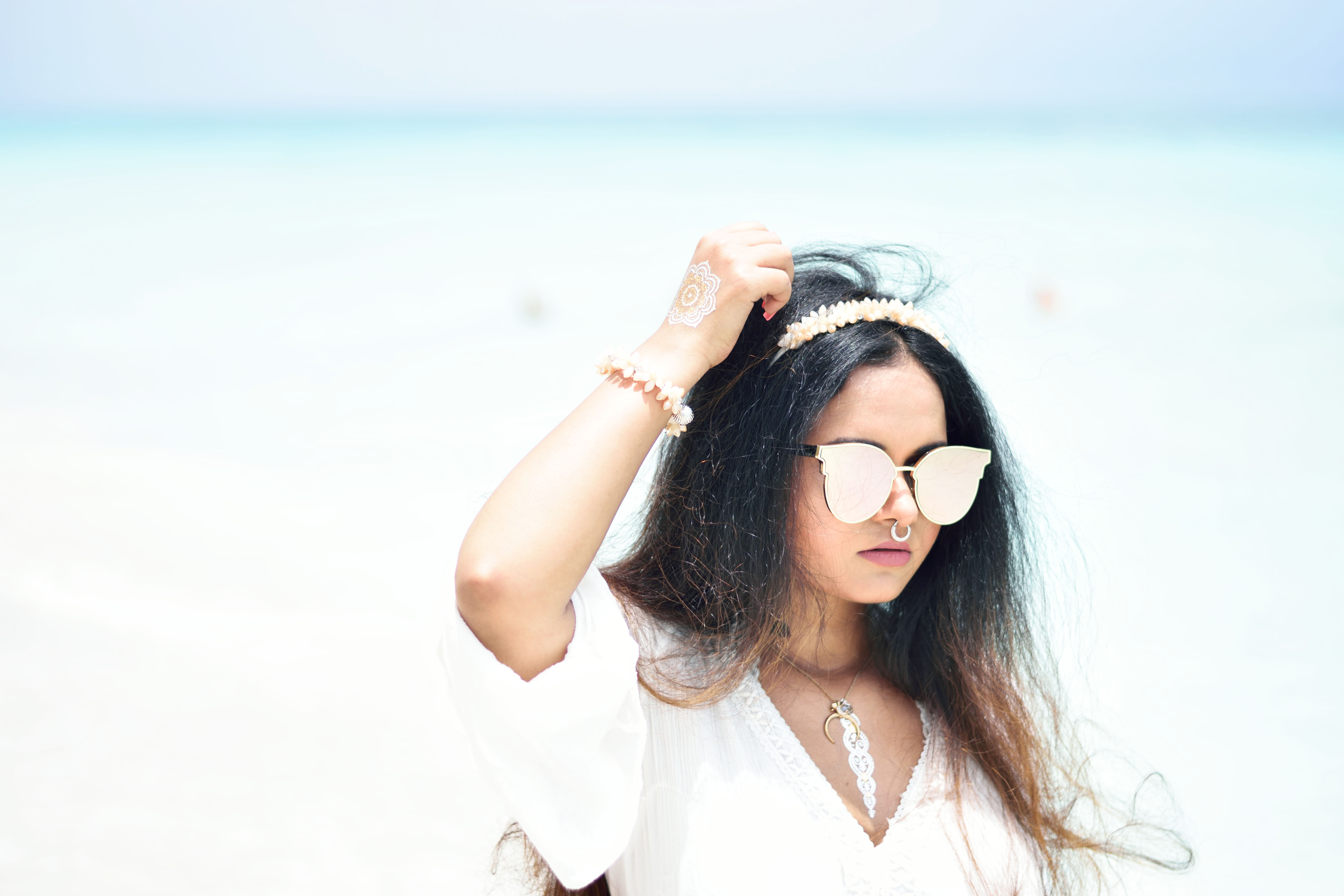 Blue/Beige Tassel Lariat Necklace with Gemstone Accent
This necklace piece is so unique which you will find nowhere else. Multicolored tassel hangings in a U shape on this necklace is perfect with loose tops or long dresses. A design that will catch everyone's eye. I wore this with a short loose top and sunglasses to create a beach look.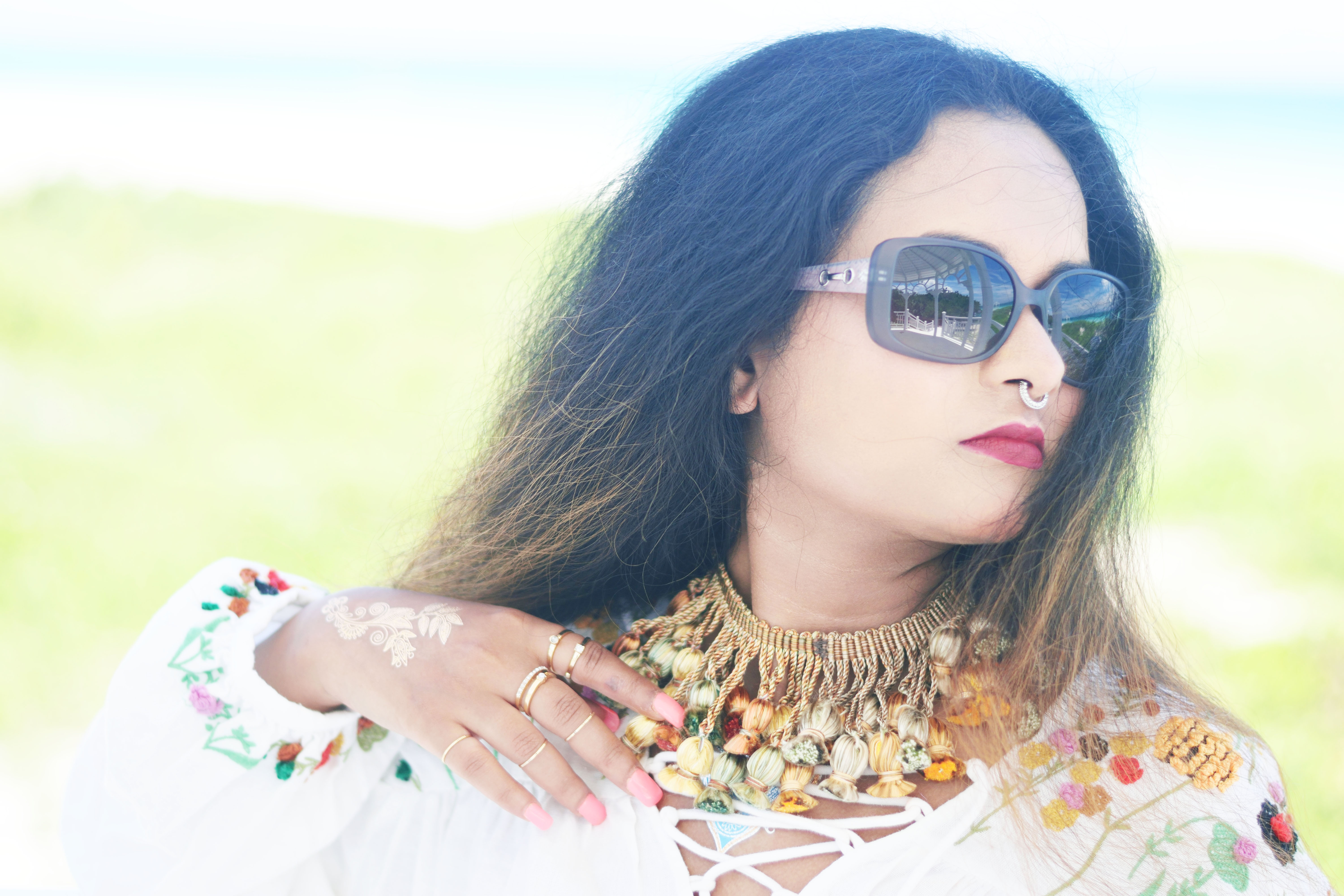 Shell pendant and ring
Shell jewelry always go awesome for any beach destinations. Wear a long beach dress or kimono and put this on to create the best boho vibes. I paired this up with a long white dress and a kimono with nose ring to create a ethnic look.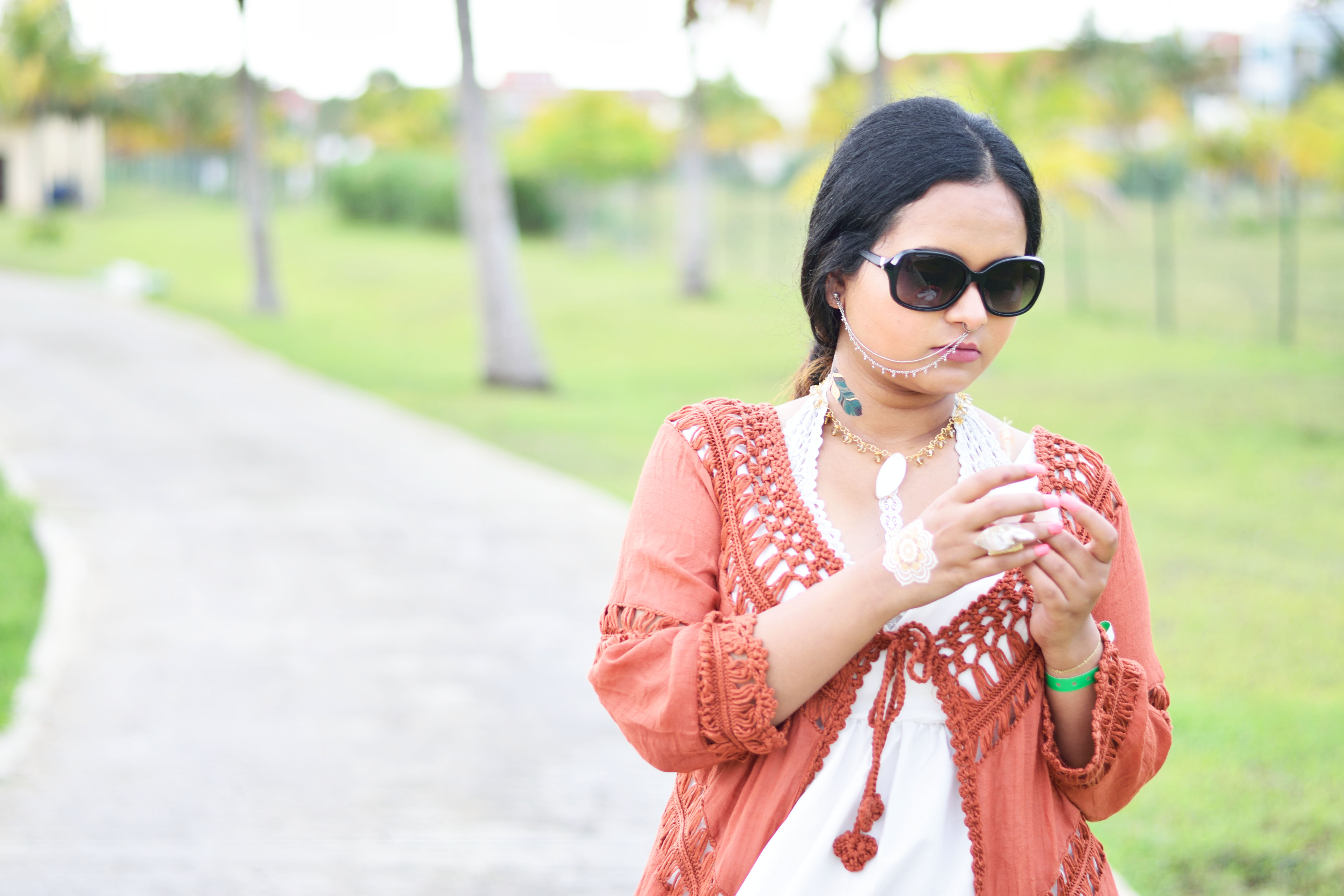 Rhinestone and Resin Flowered Fringe with Pearl Accented Hairpin
A classy hairpin adds such a glamour to your hairstyle. I love doing different braids on my long hair and this hairpin is perfect for this.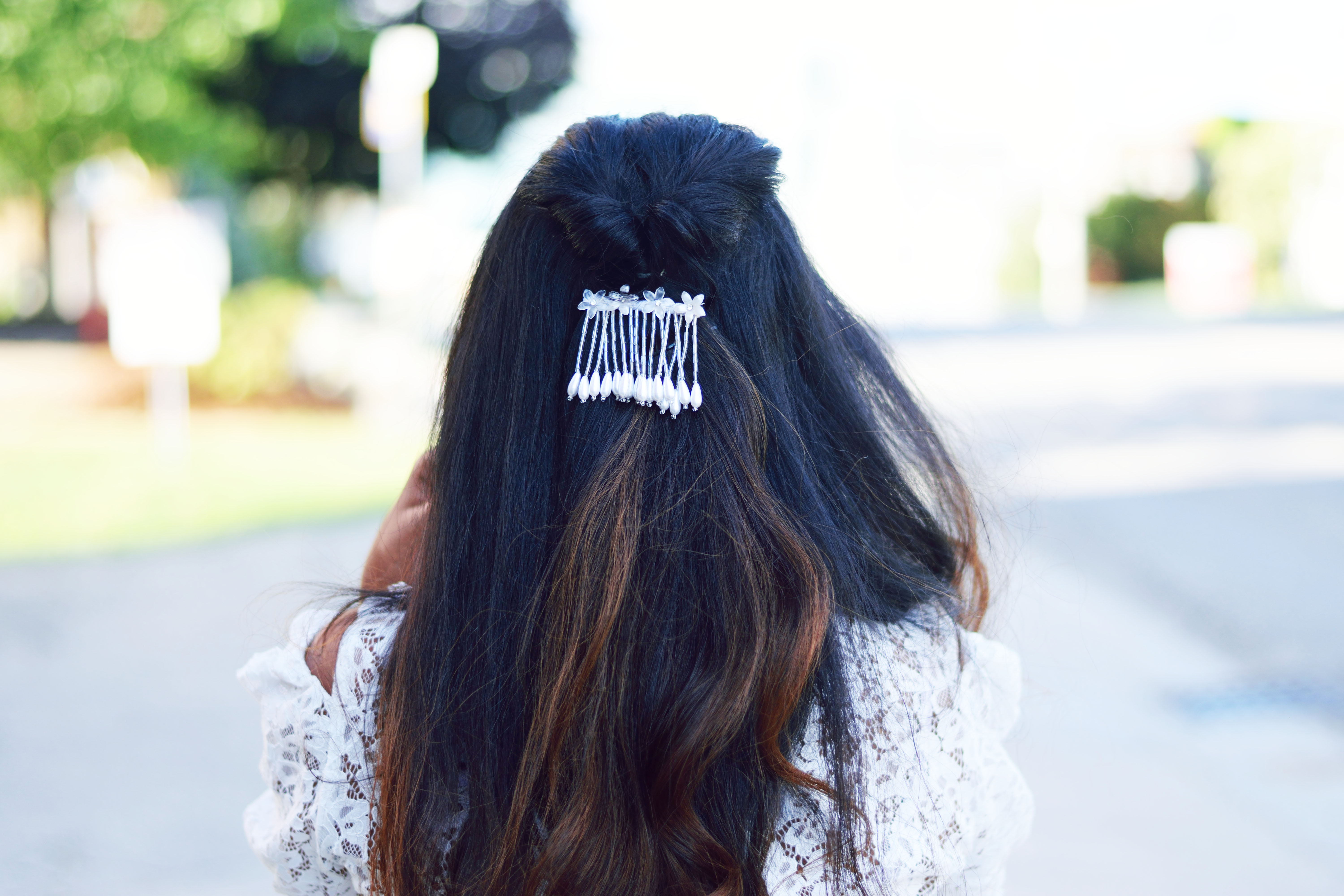 Multi-colored shell brocade Necklace and bracelet set
This set is so cool for any beach vacation. It adds lot of colors to your look and perfect for any gateway.
Order and Shipping
You can order anything from her lovely collection from her site here and shipping is super fast to anywhere in US and Canada. What I like most in her site is her lookbook section where you will find pairs of jewelry to create a whole look. If you live near New York or New Jersey you can also buy directly from a few stores around there which you will find in the stores section in the website. She also has a lot more collection to offer and does custom designs based on your needs for which you can directly contact her on her Instagram.
Hope you liked all the lovely jewelry I showed you Today and feel free to check with Yvette if anything catches your eye. You can follow her Instagram to see any new designs that comes up. I will be coming up with a lot more new and exciting posts very soon from my Cuba vacation. You can also read my whole Cuba journey here if you have not checked it yet. If you liked this post, please hit the Love button, comment and subscribe to my newsletter to get all my blog posts right to your inbox. Also don't forget to follow me in Facebook, Instagram and Twitter.

XOXO