Miyu Beauty Travel Size Beauty Essence Review and Giveaway
"The essence of beauty is unity in variety"
Hi Loves,
It is almost the end of summer and I am so disappointed to let the summer go. Although I like the fall colors on trees and I am going to post a lot on all my fall journeys. During this change of season my skin becomes occasionally dry and needs lot of hydration. That is why I bring you today two travel ready  beauty essence from Miyu Beauty which you can easily carry in your purse and just a spray or two will make you refreshed and keep your skin hydrated.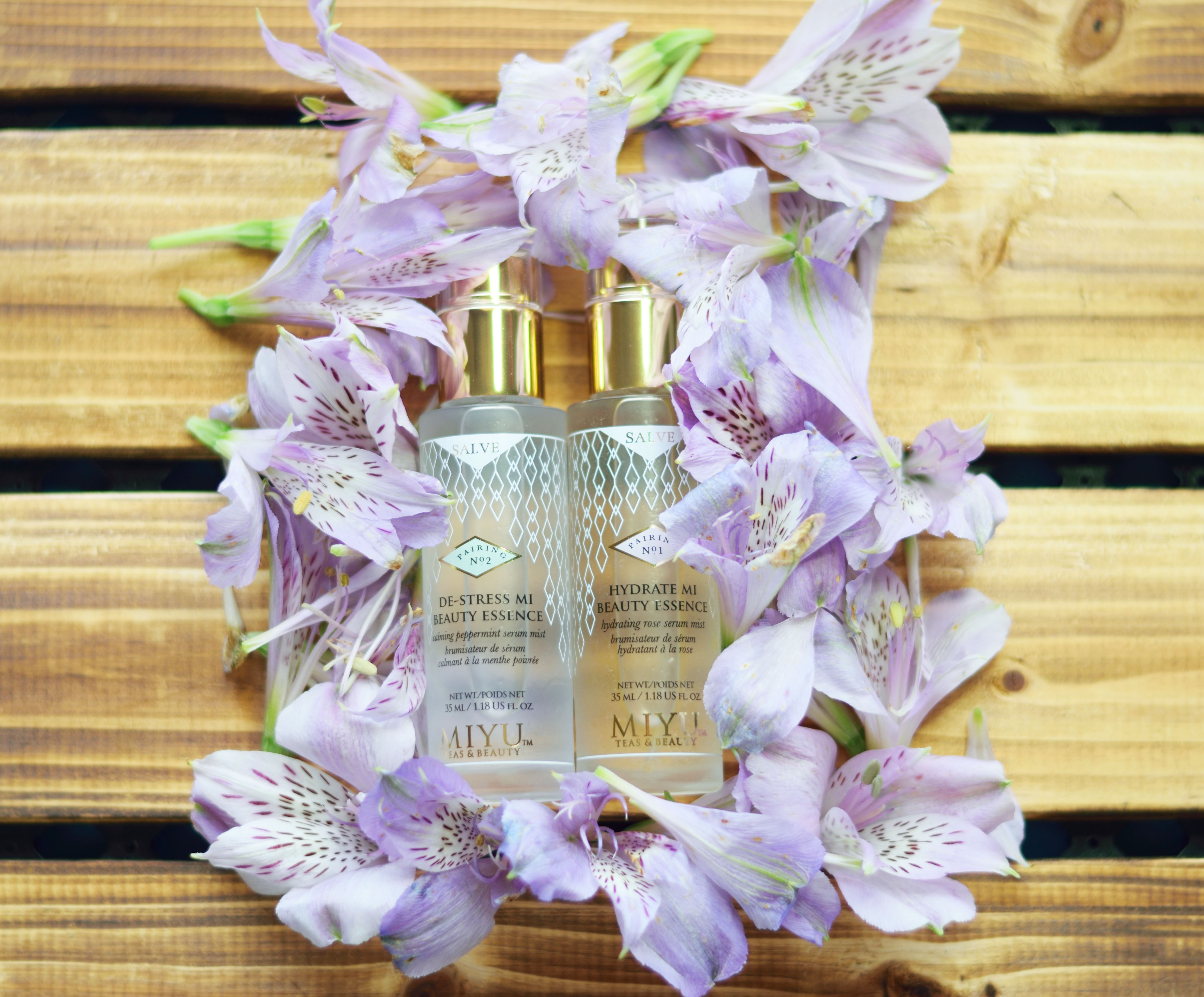 About Miyu Beauty
MIYU is a revolutionary line of skincare and teas designed to make life easier for women in today's fast-paced world through healthier lifestyle choices for their skin. MIYU uses as many natural ingredients as possible, without compromising on efficacy. Borrowing wisdom from the philosophies of ancient Chinese medicine, MIYU combines those teachings with the advancements of today's skincare technology to introduce a revolutionary line of effective beauty products that address skin concerns from the inside out. Another great feature of these is they are alcohol and fragrance free, clinically and allergy tested and they are totally cruelty free and never tested on animals.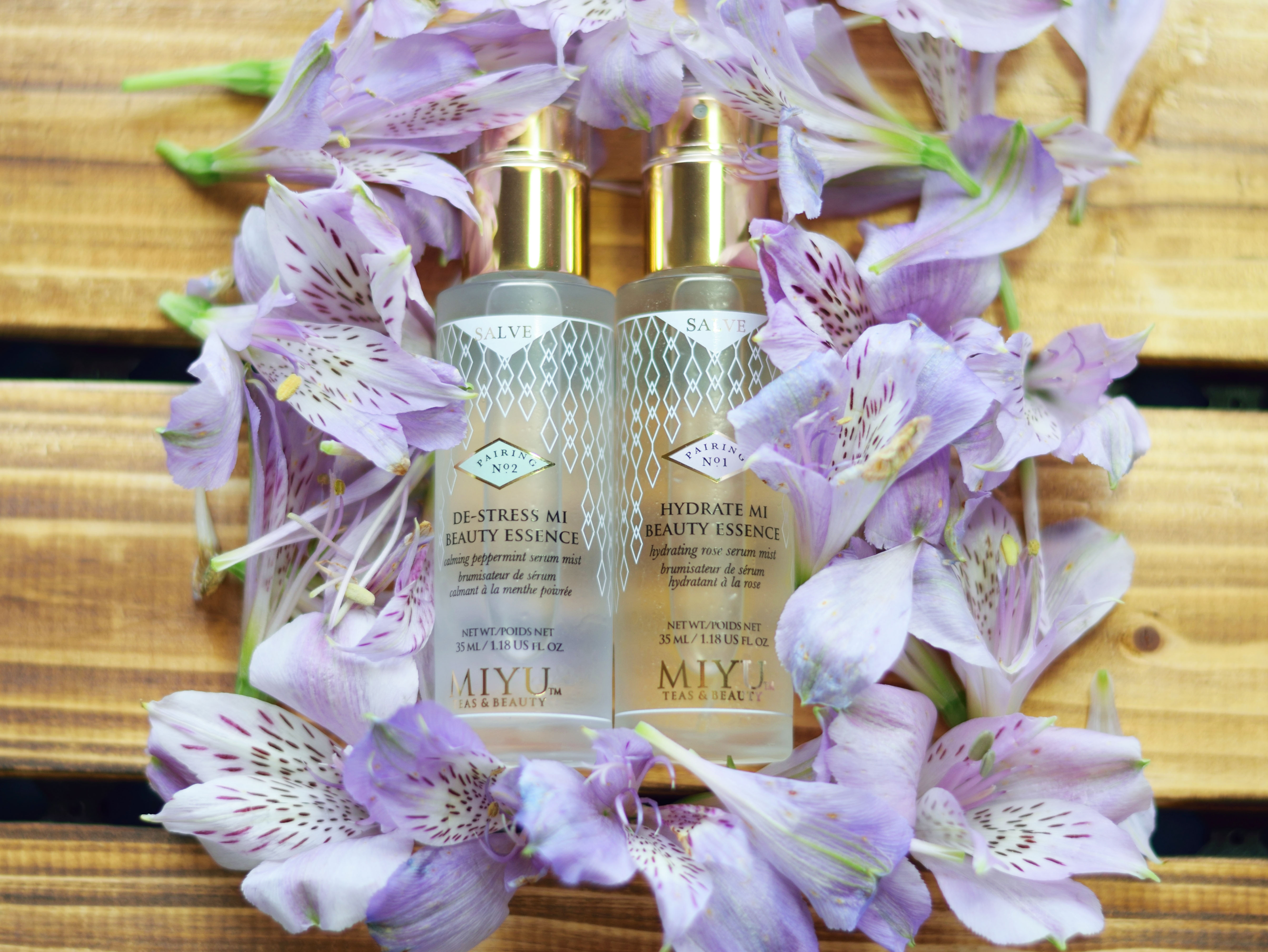 Travel Size Beauty Essence
Miyu has recently launched these travel size Beauty Essence with a gorgeous new design and new perfect spray. This will help you carry it anywhere easily and the new sprayer dispenses a fine, all-over mist that will take you to your happy place, whenever you need a moment.
Di Stress Mi Beauty Essence
The Di-Stress Mi Beauty Essence is a spray-on serum which calms inflammation and redness, fights stress-induced free radicals, and rebuilds the skin barrier to promote healthier, more resilient skin.  Chinese liquorice and chamomile blossoms calm inflammation and redness (caused by stress) and soothe from within. Peppermint instantly uplifts the senses and releases the mind from moments of tension.
For me in everyday busy life with stressing timelines I find this mist very helpful with daily use. This makes me refreshed, reducing all stress and making me calm. Plus it strengthens my skin barrier making it more resilient against external irritants.
Hydrate Mi Beauty Essence
The Hydrate Mi Beauty Essence is a spray-on serum helps to hydrate the skin and lock in moisture. In our busy life where we do not get to drink much water and live on caffeinated beverages and live or travel in dry climate, our skin needs hydration. This mist has wild pansies which boosts hydration by enhancing skin own water transport system. Goji berries and mangosteen provide potent antioxidant protection to banish age-accelerating free radicals.
My skin itself is dry which is why in little dry weather it needs a lot of hydration. When I am outside it is hard to keep skin hydrated that is why this mist has got a permanent spot in my purse. A spray or two in between schedules keeps me hydrated and my skin looks smooth and fresh.
Product Link:
http://www.miyubeauty.com/hydrate-mi-beauty-essence-35ml/
http://www.miyubeauty.com/de-stress-mi-beauty-essence-35ml/
Availability
All Miyu beauty products can be bought directly from their site mentioned below and can be delivered all over US and Canada. Shipping is free over 65$ and standard shipping takes 4-7 business days and 1-3 days for expedited shipping. They have a lot more products to offer, so feel free to check them out in the link below
Giveaway
I have organized a giveaway for you which you can enter easily through the Rafflecopter form below and win both the travel size Di-Stress Mi Beauty Essence and Hydrate Mi Beauty Essence shipped free directly to your house. The options are very easy and takes only 2 minutes. Giveaway open to US and Canada only. Surely try it out and the winner will be announced on 26th September 2017. The giveaway is an exclusive opportunity only for you, so don't miss this!!