Welcome Fall Season with outfits from Lookbook Store
"I think glamour is about confidence and really owning the look" – Monique Lhuillier
Hi Loves,
How are you all doing? This time if the year is my very favorite because I really love to see all the leaves changing colors in the fall season. It is so nice to watch how mother nature changes and one by one the trees catch such gorgeous colors. With this fall season kicking in it is time to get some new fashion outfits which would match with the beautiful colors outside. So I am going to show you some fabolous fashion and classy outfits from Lookbbook Store which you will really love. My first one in the list is this Navy Lace Crop Sleeves A-Line Dress from Lookbook Store.
Navy Blue color is one of the prettiest colors in this world and when combined with Lace details, it is bound to be the prettiest.  I am so in love with this A-line dress for it's lace overlay which makes it so classy. It has a boat neckline and midi length. The crop sleeves and the adjustable drawstring makes it look more sophisticated with a tinge of cuteness in it. It also has a back zipper to make the fitting perfect.
This dress has the official classy look which is great as an office outfit while the color and the lace details makes it perfect for a classy dinner or any after work parties too!! I am so loving wearing it on any day outing and brunches . Make sure you click the link and check the price, you will be amazed.
Create the Look
Since the navy blue color is so bright and classy so I thought of creating a whole blue shade look with some mirror blue sunglasses and a cute blue purse that I had. I gave a normal nude makeup look not so heavy with a little lipstick and mascara to keep the overall classy look. I kept my hair open which really flows with the dress but you can try with tied hair too!!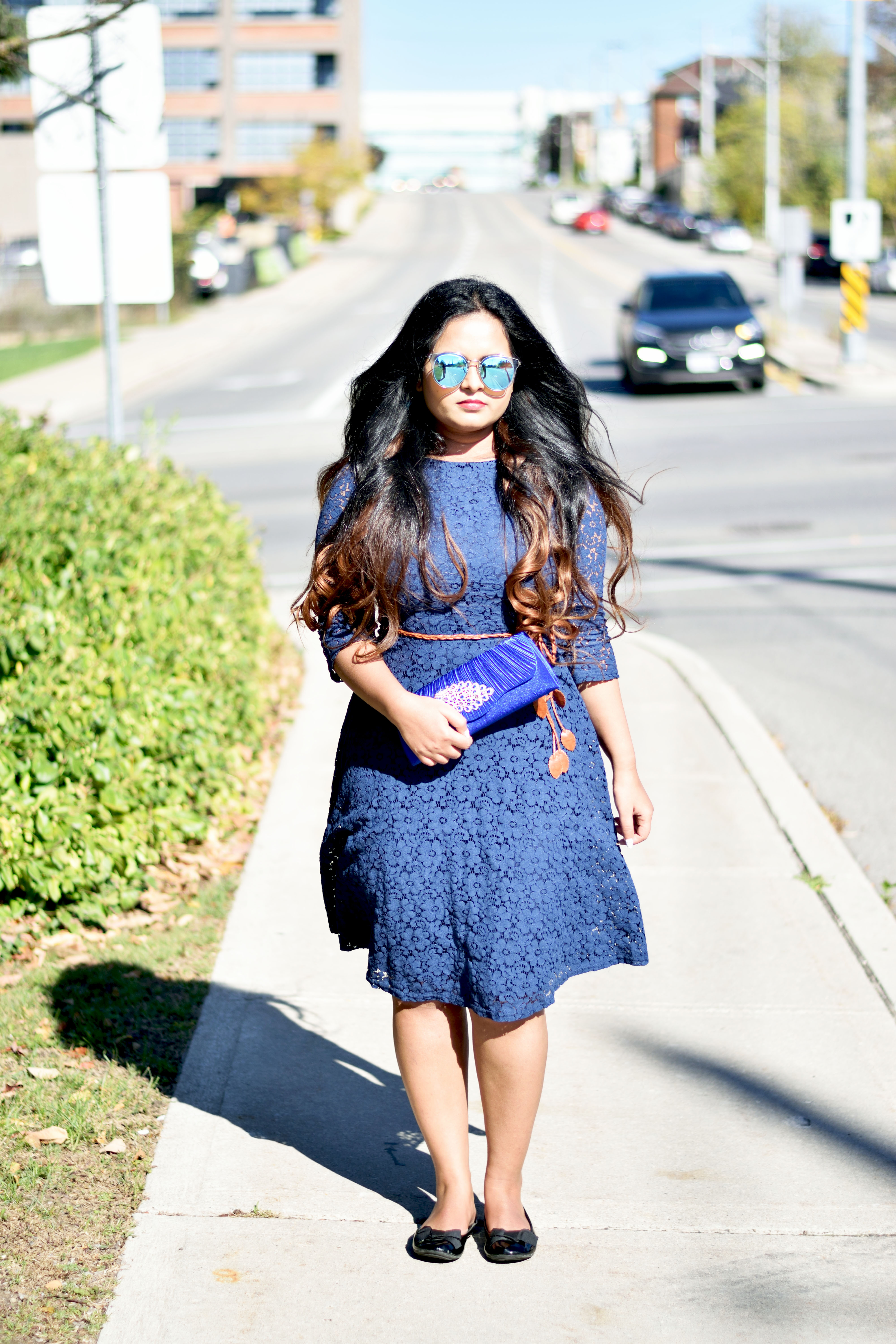 Shop the Look
You can buy this dress at Lookbook Store directly in the below mentioned link:
Navy Lace Crop Sleeves A-Line Dress
The dress is available in all sizes and it is also available in a lot more colors like White, Black, Turquoise, Light Orange and Coral. The most attracting this of this dress is the price. I have never seen such a classy dress of this great quality in this price range!! This is why I love Lookbook Store so much!!  Lookbook Store ships all around the world with minimum shipping charges and shipping is fast and reliable. Feel free to browse the Lookbook Store website for more dresses and the collection is just unbelievable!!
Hope you liked this Navy Lace Crop Sleeves A-Line Dress from Lookbook Store and the look I created with this. Stay tuned for some more amazing outfits from Lookbook Store which I will be showing very soon. If you liked this post, please hit the Love button, comment and subscribe to my newsletter to get all my blog posts right to your inbox. Also don't forget to follow me in Facebook, Instagram and Twitter.

XOXO