Dresses that boost confidence from LookBook Store
"I don't follow rules, I make them, and when necessary, I break them" – Veronica Lodge (Riverdale)
Hi Loves
Hope you are all staying warm in this pretty bad winter!!! My motto in winter is always be in home and watch Netflix!! Speaking of Netflix if you are big fan of Riverdale like me, you would love the confidence shown in the character of Veronica Lodge played by Camila Mendes and the most confident she looks when wearing blue and black. She wears these colors most times and it gives her character so much charisma!! So Today I am going to present to you two amazing dresses from Lookbook Store which just boosts my confidence and gives a totally trendy and classy look every time I wear them. These two dresses are Navy Floral Lace V Neckline True Wrap Dress and Black T-Front Long Sleeves Shift Maxi Dress from Lookbook Store.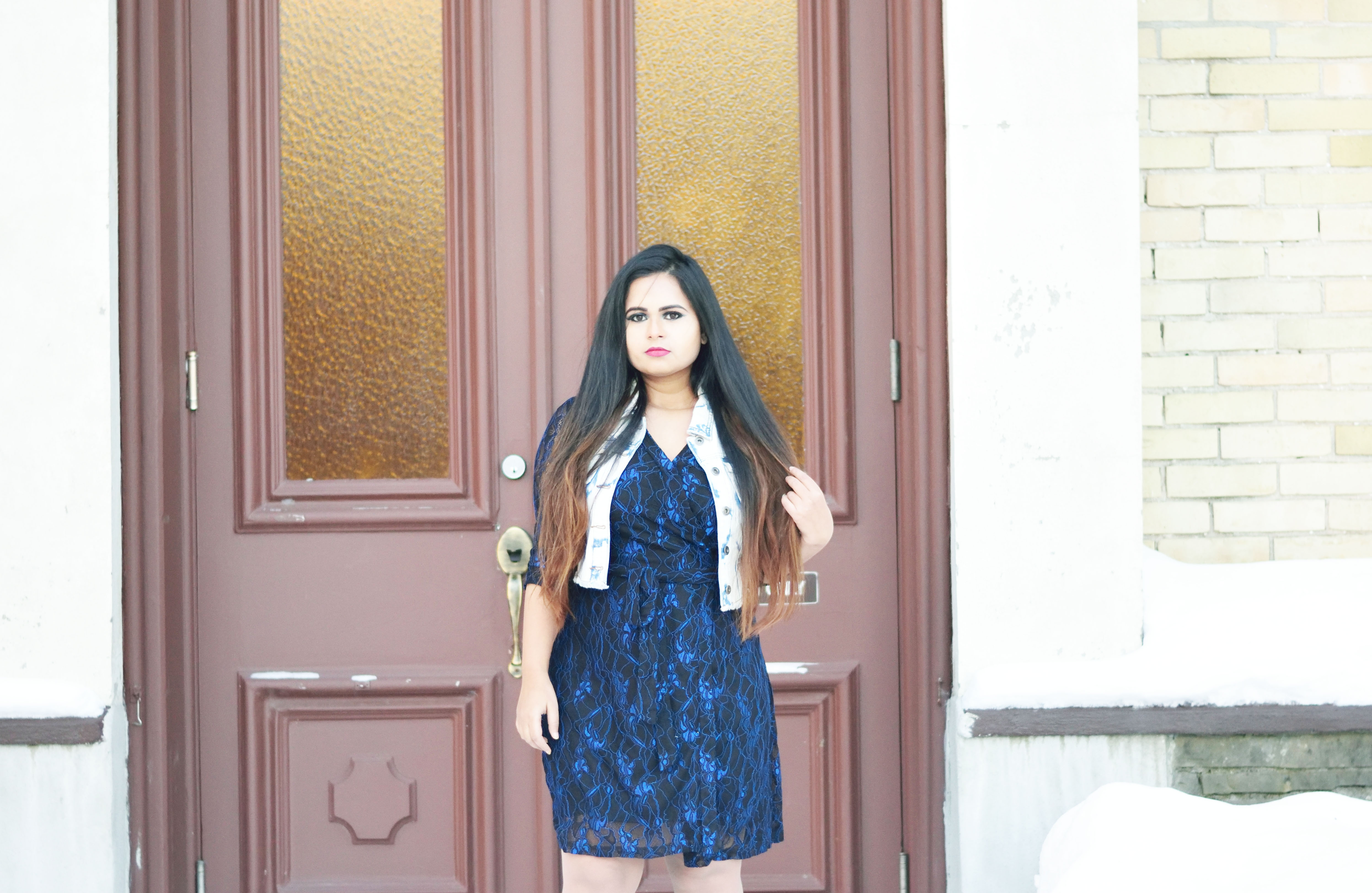 Navy Floral Lace V Neckline True Wrap Dress from Lookbook Store
Blue color is one of the confident colors in this world and I always feel classy and confident while wearing blue. This blue Floral Lace Wrap Dress from Lookbook Store has an exquisite color which brings that confidence in the look. The dress features a very elegant black floral lace overlay and navy floral details all over. It has a semi-sheer lace crop sleeves which looks classy and comes in a true wrap style with a sash belt which can tied to a nice bow knot.  
This dress has a true classy look which goes great with any skin color. Best to wear on a bright day while going to lunch or brunch with friends. I added some eye shadow which goes best with  this dress. Another feature I must speak is the wrap style which is so unique and creates a different look than any other dresses.
Black T-Front Long Sleeves Shift Maxi Dress from Lookbook Store
It is always said that you can never go wrong with black. It is an universal color which can bring sophistication to any look. The best thing I like about this Black T-Front Long Sleeves Shift Maxi Dress from Lookbook Store is it's front T-design which always catches attraction!! It comes with full sleeves which I always like in any dress. It's maxi style and loose design is very good to cover any extra weight if you have put on. It has a stretchable cotton blend material which is very comfortable to wear too!!
As I said this dress speaks elegance so all your makeup should be elegant to go with this. So I have put some glossy makeup and dark black eye shadow. Also I applied a dark red lipstick which goes best with this. To create a whole black look it is best to get a classy black purse and black heels. This dress is perfect for any night parties or dinner where you want to get an elegant look and mesmerize everyone!!
Shop the Look
You can buy both these dresses at Lookbook Store directly in the below mentioned link:
Black T-Front Long Sleeves Shift Maxi Dress — https://goo.gl/aLNkha 
Navy Floral Lace V Neckline True Wrap Dress — https://goo.gl/bjcZ7k 
These dresses are available in all sizes. The most attracting this of these dresses is the price. I have never seen such gorgeous dresses of this great quality in this price range!! This is why I love Lookbook Store so much!! Lookbook Store ships all around the world with minimum shipping charges and shipping is fast and reliable. Feel free to browse the Lookbook Store website for more dresses and the collection is just unbelievable!!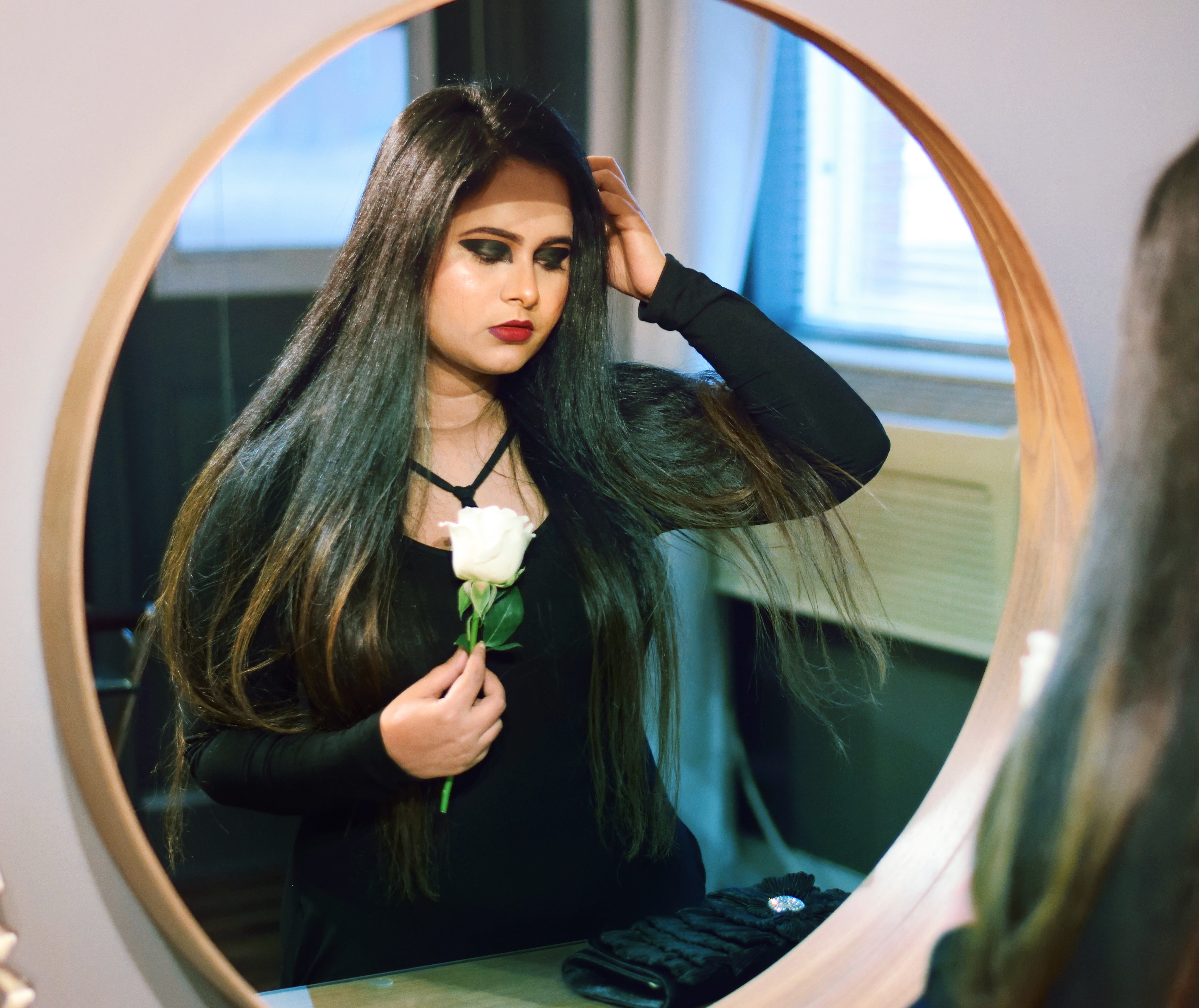 Hope you liked my review of these two Dresses that boost confidence from LookBook Store along with the looks I created with these. Stay tuned for some more amazing outfits from Lookbook Store which I will be showing very soon. If you liked this post, please hit the Love button, comment and subscribe to my newsletter to get all my blog posts right to your inbox. Also don't forget to follow me in Facebook, Instagram and Twitter.
XOXO